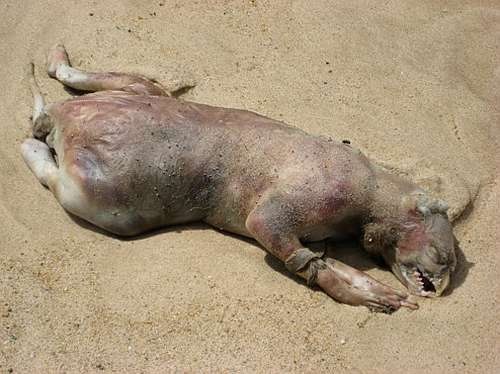 There are many people who say that it is a dog... but I do not believe so. Its anatomy is very inconsistant with any dog on earth. I have seen it called a Boxer by Monster quest, or even a Pug by Forgetomori. well, lets toss out this BS right now.
First of all, The Montauk monster has large canine teeth, making it a carnovore in class. which means it can be any number of animals. secondly, it has a enlongated skull, tossing the pug out of the picture. the next peice of evidence comes from the LONG TAIL, neither a pug or a boxer has a long tail.
lastly, if you look at the only visible paw, you will notice that it is very elongated, as well as elongated fingers, which also eliminates the stubby pawed Pug. It also has no pads. all dogs have dark pads on the bottom of their feet, 5 per foot. On a second note, Raccoons also have no pads, very elongated hands and fingers, a long tail, and enlongated skull, and even teeth where they show teeth, or where there are teeth gaps in the skull. also, the Montauk Monster has greyish brown and white long fur as well as the fact that the fur looks VERY coarse, A raccoon has this type of fur, yet a Pug or a Boxer has very small, fine hairs.
There is no possible way that anyone with a credible biology degree can say that this carcase is in any way a Pug or a Boxer.
Montauk Monster T-Shirt (Google Affiliate Ad)
it being a raccoon seems to be the most plausible solution.
Reference
http://scienceblogs.com/tetrapodzoology/2008/08/the_montauk_monster.php